SPS - Industrial Automation Fair (SIAF) Guangzhou will be held in March 2023. The fair will cover the latest industrial automation innovations worldwide and inject a whole host of opportunities into South China's thriving smart manufacturing industry.
After a successful three-day run at the China Import and Export Fair Complex, SPS – Industrial Automation Fair (SIAF) Guangzhou and Asiamold concluded on 5 March. Despite the pandemic affecting participation from the cities of Dongguan and Shenzhen, the two fairs still attracted 408 exhibitors who showcased their latest innovations and smart manufacturing solutions across 40,000 sqm of exhibition space, with the fairs also attracting 23,825 visits. Both under the smart manufacturing cluster, the fairs serve as an important platform for the adoption of advanced, sustainable, efficient and high-precision manufacturing technologies within the domestic market which have created more opportunities for exhibitors and buyers in the 2022 edition.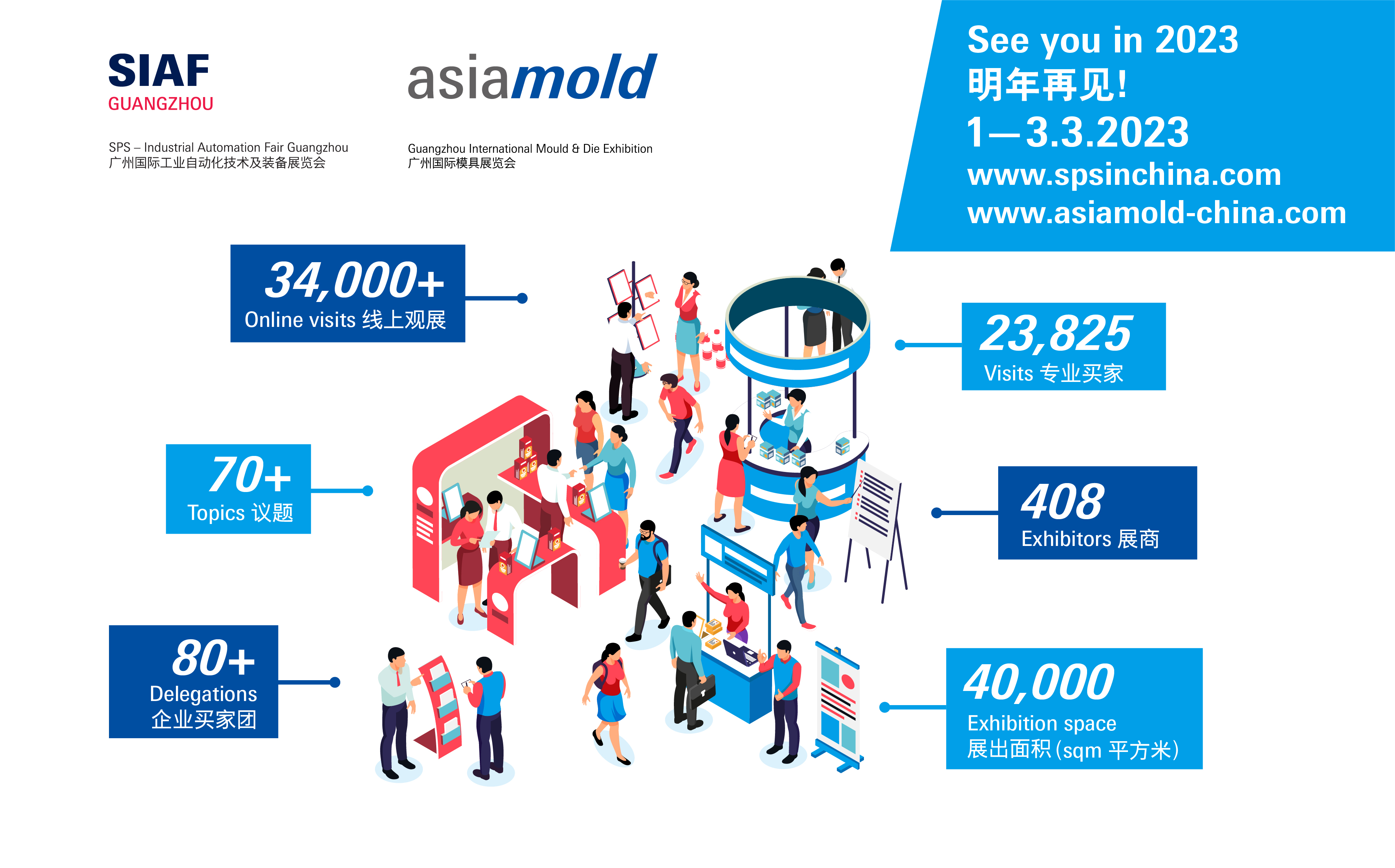 Exhibitor comments
2022 marks the fifth year of Bonfiglioli's participation at SIAF Guangzhou and over the years attending the fair, we have continued to establish new partnerships and build lasting business relationships with clients with our customised solutions. Despite a number of clients unable to attend the fair this year, we are still pleased with the visitor turn out and delighted to meet domestic buyers from Zhejiang and several northern cities in China. In recent years, we noticed various industry sectors paying more attention towards energy consumption and sustainable automation solutions, particularly within the steel, electric power, dye and printing industries. In conjunction with the national environmental targets, we have been developing energy-saving management system solutions to meet our clients' and the government's energy-saving needs.
This our fifth year participating at the fair as SIAF Guangzhou not only attracts the right target buyers for our business but is also a great marketing tool for promoting our brand. The fair puts us in direct contact with new and existing clients to not only gain valuable feedback for our products, but to also understand their individual manufacturing needs. We are very pleased with this year's event as many local clients came to our booth to discuss business partnerships in detail, boosting domestic sales due to a sharp decrease in imported products. Paired with the government's production goals in the latest Five-Year Plan, our domestic market sales increased close to 90% in the past two years. In terms of sustainable manufacturing, our firm has been heavily involved in developing lithium ion battery technologies and solar PV smart manufacturing solutions to support the country's 'Carbon Peak' and 'Carbon Neutral' initiatives.
As a loyal participant at SIAF Guangzhou, this is of one of the must attend trade fairs in South China. The fair covers the latest industry and development trends within the smart automation market, bridging the gap between the region's manufacturers with top of the line solutions providers. Our target clients represent the automotive, packaging, food and beverage, computers, communications, consumer electronics sectors and more, and we are glad to have connected with them despite the global healthcare situation. We believe 3D machine vision, artificial intelligence, deep learning and cloud computing will be the developing trends for the machine vision industry and we really appreciate the organisers for creating a safe environment for the industry to connect and conduct business.
We have been attending SIAF Guangzhou for five years and our company is mainly a system integrator of high-end intelligent manufacturing, specifically for the automotive industry. This year, we came purposely to source for the latest machine vision technologies and products and have established brief communications with a few well-known suppliers including Cognex and Aqrose Technology. With the advancement in machine vision technology, the combination of 3D machine vision, AI learning for quality control and the latest IoT technologies are some of the most important development focuses for reassuring production efficiency and quality. Sustainability is very important for our organisation and we prefer to source for products that are energy efficient. Overall I am very pleased with this year's event and as always, it is one the most influential industrial automation trade fairs within the South China region.
Fair impression 2022