SPS - Industrial Automation Fair (SIAF) Guangzhou will be held in March 2022. The fair will cover the latest industrial automation innovations worldwide and inject a whole host of opportunities into South China's thriving smart manufacturing industry.
The 13th edition of SPS - Industrial Automation Fair (SIAF) Guangzhou will be held from 3 - 5 March 2022 at the China Import and Export Fair Complex in Guangzhou. SIAF is the premier hub for intelligent automation solutions in South China. Held concurrently with Asiamold - Guangzhou International Mould & Die Exhibition, both fairs are dedicated to showcasing the latest varieties of smart manufacturing solutions, bringing insights from industry leaders and providing rich networking opportunities for fairgoers within the region. Together, SIAF and Asiamold 2022 expect to welcome over 65,000 visitors and host more than 850 exhibitors across 50,000 sqm of exhibition space.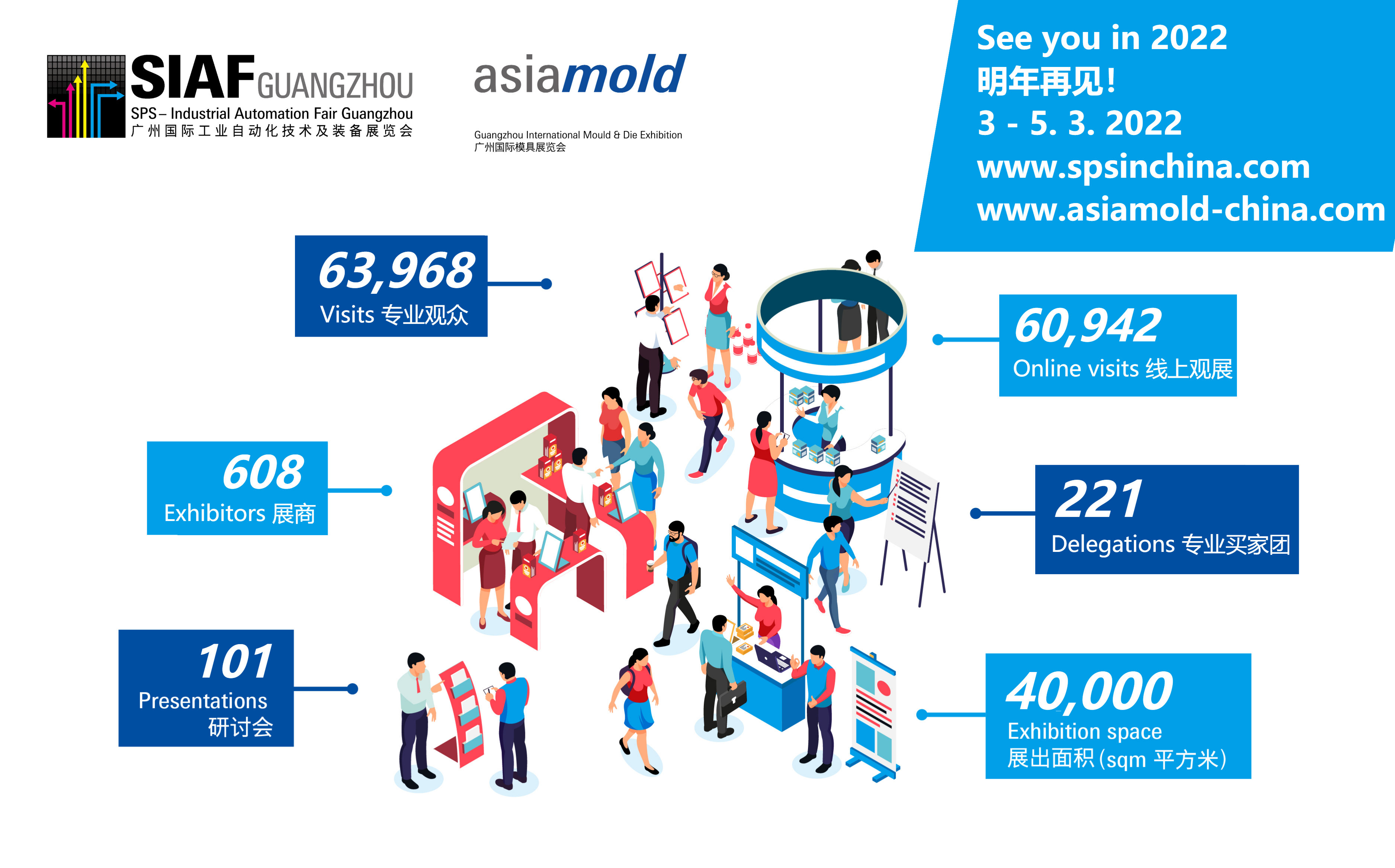 Exhibitor comments
SIAF Guangzhou is a very important industry event for our company. It is an invaluable tool to discover new business opportunities, grow our client base and most importantly allow us to understand and interact with the market directly. Through our repeated participation, we hope to spark business partnerships with not only end-users but also other exhibitors in developing new products to meet the increasing manufacturing demands led by the current digital manufacturing era. SIAF Guangzhou is constantly improving and compared to the previous edition, there was a big improvement on visitor flow which helped grow our business leads.
Harting is a loyal exhibitor at SIAF Guangzhou and the main reason for our continued participation is due to its unrivalled position for sourcing smart manufacturing solutions within South China. The fair attracts purpose-filled buyers who come prepared with in-depth questions to learn how newly developed technologies can benefit their manufacturing needs. This year, we saw an increase in visitor flow which led to more business enquires and new connections.
We have participated at SIAF Guangzhou for a few editions and have been extremely pleased with the number of professional industry buyers the fair attracts which has helped us build a solid client base. This year was no exception and despite the on-going pandemic, the visitor flow was clearly higher than the previous edition. The fair helped put us in close proximity with both new and old clients. In the current digital era, the sensors market is a crucial part of smart manufacturing and I foresee this industry will continue to grow not only during the healthcare crisis but with the aid of national policies as well.
This is our 12th year participating at SIAF Guangzhou as this is an exceptional trading platform for smart manufacturing solutions which resonates with our products and promotional goals. The quality and quantity of professional buyers to the fair is very high and a majority come to the exhibition with specific questions and needs, and are looking to upgrade their existing production line or to understand the latest smart manufacturing technologies. Furthermore, the fair benefits us as exhibitors as we were also able to find accessories and parts suppliers who we can partner with in the future.
Fair impression 2021