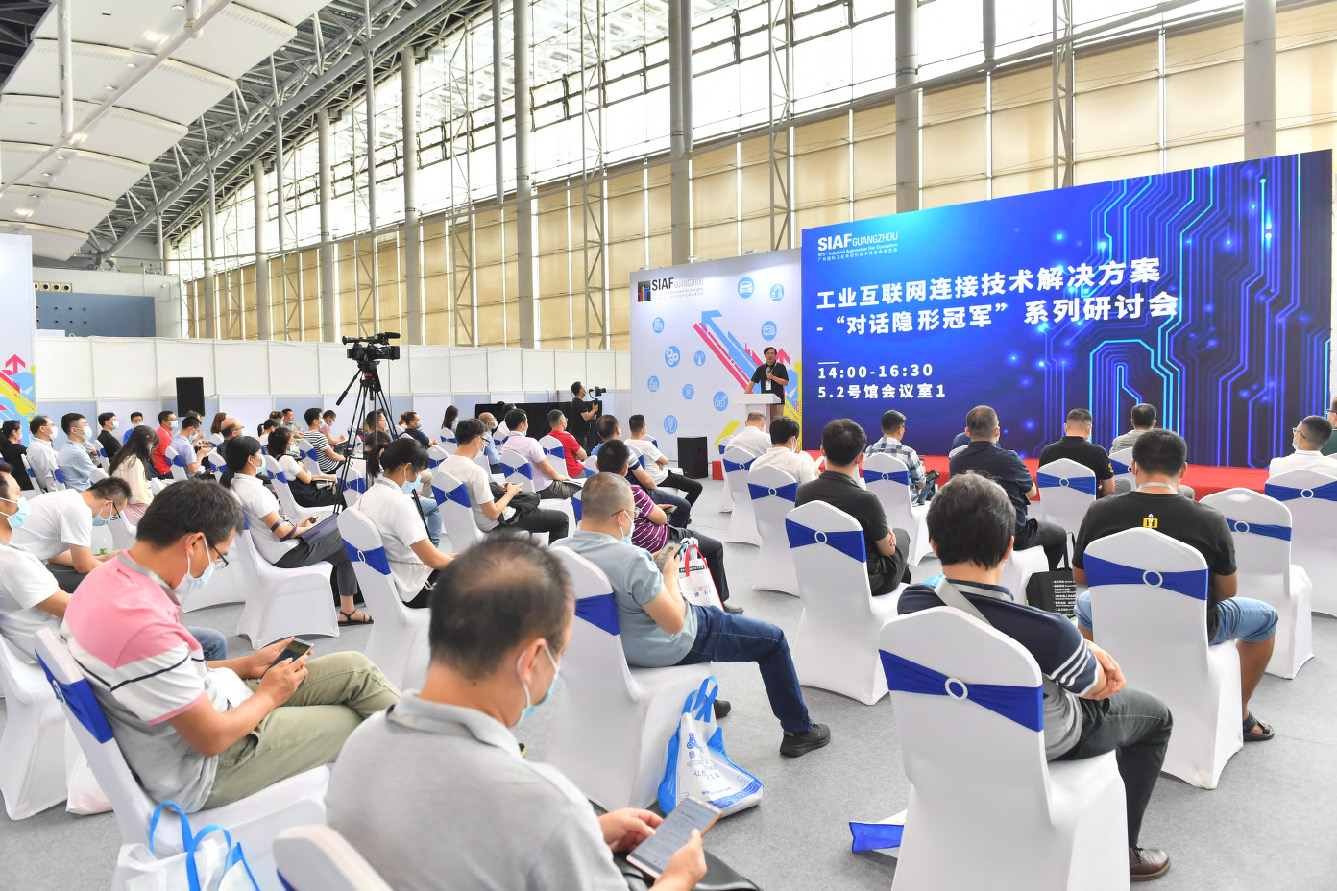 The seminar programme at SIAF Guangzhou is the most important platform for information sharing and networking for industrial automation and its applications in China. In the seminars, you can:
Access to the current and future developments in industrial automation
Understand common problems and their solutions
Discuss and exchange experiences with invited delegates
The 2019 programme was from 10 – 12 March 2019. 
SIAF Conference 2020 Schedule at a Glance

*Amendment to the above schedule is possible, please refer to the final agenda on-site.

Conference Room 1


 

 

 

AM


Opening Ceremony

CPS (Cyber Physical System) and data transactions in Manufacturing

-IIndustrialValue Chain Initiative (IVI)

"Smart Manufacturing in 5G Era" ForumInnovation-Driven, Digital Upgrade -5G New Infrastructure + Smart Manufacturing -Gongkong


Smart Industry Solutions-Robotics/drives

PM


Industrial Internet Connecting Solutions

-"Hidden Champion" Series

IT meets Automation

-OPC Foundation

 

Conference Room 2


 

 

 

AM


 

"Smart manufacturing + IoT" Seminar

International Smart Manufacturing Industry Alliance (iSMiA) Specialty Committee of Internet of Things

 

Smart Industry Solutions-Sensor 4.0


Smart Industry Solutions-Preventive/Predictive Maintenance

PM


Applications of Digital Factories in Manufacturing under New Infrastructure

-ilinki.net

 

Conference Room 3


 

 

 

AM


TSN/A Forum

-Weka& AVNU

TSN/A Forum

-Weka& AVNU

 

PM


TSN/A Forum

-Weka& AVNU

TSN/A Forum

-Weka& AVNU

 

Cleanzone Talk
Participants' comments
We are happy to be here today to deliver the presentation of '5 ZERO Manufacturing - Future Vision of Manufacturing'. It is a good occasion for us to introduce this idea in China. Nippon Electric Control Equipment Industries Association is the only organisation to promote this concept in Japan. The topic we covered today focuses on how to help the manufacturing industry increase profits via five aspects and enhance production efficiency. At the end of the seminar, some of the audience raised thought-provoking questions, they were very interested in the application of the concept. We are satisfied with the results that we have achieved.
To save on labour costs while increasing productivity, many companies are using robots at their warehouses. SIAF provided me a great chance to talk about this trend and explain how important it is to build human-centric robots. The audiences were very attentive during the seminar and asked a lot of profound questions. The panel discussion also allowed speakers to share their own thoughts and learn from each other.
This is the first time that I have joined SIAF as a speaker and I shared the latest research achievements in the digital transformation of industrial manufacturing. Industry 4.0 includes Intelligent Production, Intelligent Logistics and Intelligent Maintenance. All three factors are complementary and prop up innovation in industrial automation. The atmosphere during the seminar was good and the audiences was quite professional. I think it is a rare opportunity for high-level talks in this field.
As a university lecturer, I need to keep abreast of the latest scientific findings in the industry. There is a frequent transfer of technological achievements between the academic and commercial sectors. The seminars didn't disappoint me. I am fascinated that most of the topics of interest, including gateway technology, wireless transmission terminals and servers, were all presented during the session. The knowledge shared by the speakers was very practical. In the future, I will also consider bringing my students to attend the forum so that they can benefit from the insights of influential expert speakers.
This is my first time visiting SIAF. I'm from a scientific and research unit, thus I want to know more about the latest news from the academic and industrial sectors, especially how new technology can help transform traditional manufacturing to Industrial 4.0. Speakers mentioned the latest information from industrial big data and industrial internet, such as how to diagnose production line problems and set up servo systems through industrial software. This really addressed potential pain points in the industry. More importantly, I could meet many high level professionals from the industrial sector and overall it was a great experience.
SIAF Guangzhou 2020 Conference impression